Used converters, completely refurbished and with a 12-month warranty: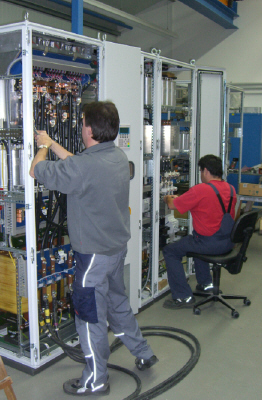 Bm Service GmbH offers a continually changing range of used equipment. All products are completely refurbished and tested prior to resale. All wearing parts, such as fans or air filters, are replaced with new components and the control electronics and control system are adapted to the requirements of your individual application.
Left:
A 250 KW converter is assembled
Currently in stock:
1 converter, type ZU 400 / 400 – 800 for 3AC 400 V / 800 A mains voltage, complete with a Schorch replacement motor in unused condition, motor size 355, type IMB3, insulation class F, 4-pole, 1490 rpm, winding 380 VΔ / 660 VY.
Converter dimensions (W x H x D in mm): 1600 x 2250 x 800
Front and rear doors with 400 mm opening radius.
Please do not hesitate to contact us for more information.
Other devices with other ratings are available at short notice.