Services for variable speed drives
Bm Service GmbH is in possession of all design, sizing and planning documents, parts lists and drawings for systems previously shipped by Bm Elektronik GmbH.
These documents are archived according to order numbers. All essential technical data can be retrieved as long as the customer or user can quote the converter type and the delivery order number indicated on the nameplate.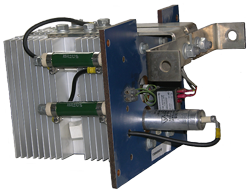 Complete heat sink block
Disc-type thyristor, cooled on both sides, with a snubber network against the carrier storage effect and a screw-type ignition transformer.